Sometimes, I
send a portfolio
to Harvard Art Musuems.
1.
2020 MFA Thesis Shows Branding
Print Design
Digital Design
Branding
For the 2020 MFA Thesis Show, the branding team (I, along with
Farinaz Valamanesh
,
Julian Parikh
, and
Wei Yun Chen
) created a holistic and participatory system that is meant to fully represent all graduating Masters students from the programs housed in the School of Visual Arts. We built a custom 20x20 square grid with three layers of concentric circles layered on top that visually indicates the 40 students graduating from the three distinct programs, Graphic Design, Painting, and Sculpture. The grid became the base for every part of the system (including unique shapes from every student and 3 custom layered alphabets).
We promoted the show through a dedicated Instagram profile and a print catalog featuring students' work and thesis statements. Unfortunately, due to COVID-19, our show was moved online. We used Cargo to create a website to feature everyone's work as well. You can view the website
here
.
I coordinated the production of the thesis catalogue, including the gathering of information (images and text with proper file naming) from 40 students, handling material and budget discussions between the School of Visual Arts, our team, and Kirkwood, who printed the catalogue, and prepping files for printing.
Installation Design
Experiential Data Visualization
Print Design

My Master of Fine Arts thesis uses experiential data visualization to mold a physical, digital, and emotional space that facilitates positive moments of human connection, in this overwhelming and surreal world we were and are living in.

I created an installation of data wind chimes, based on hopeful data surrounding our COVID-19 world last spring. These forms are a practice in nostalgia, hope, the act of quickly shifting to answer a crisis, the synthesizing of seemingly disconnected information, and the representation of a large number of people in one final form. Through photography, video, and audio, I've guided an experience that allows my audience to truly feel like they are seeing and hearing this piece in person. This media has become a proxy for actually interacting with the installation.

My thesis book below features relevant work from my two years in graduate school, annotated articles and research that supported my thesis, and my full thesis statement. The book is mostly black and white, save for images, so that the warmth in my work would speak for itself. The lines connecting everything in the book are meant to represent the lines connecting points when embroidering. The title on the front cover is stictched in on the physical copy.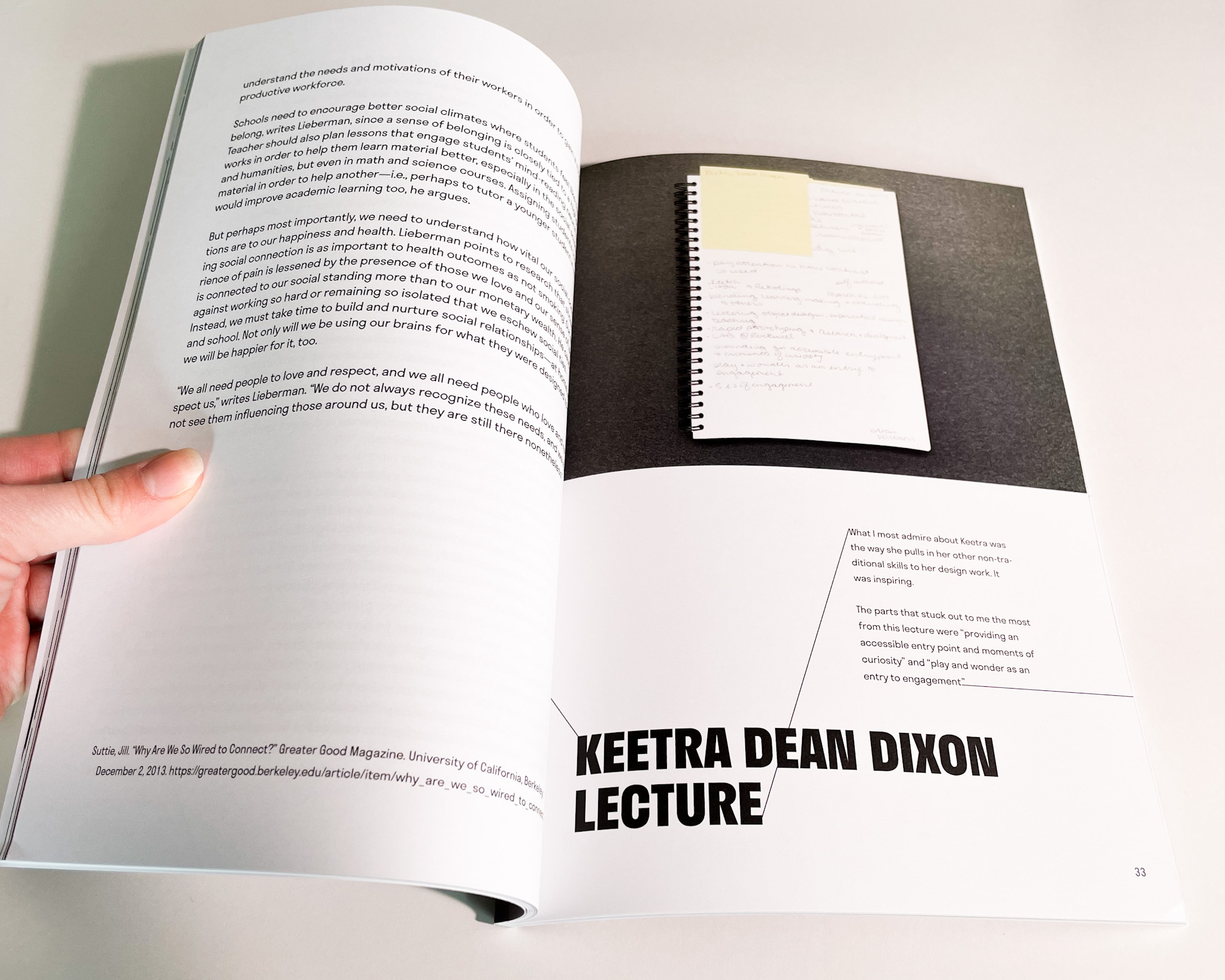 3.
Human Connection
& Design
Curation
Print Design

The text and images curated in this book touch on three different subsets of human connection: human to self, human to human, and human to environment.
Product Design
Package Design
Print Design
Digital Design
Illustration
Product Photography
I was a Junior Designer at Pearhead, Inc. on the Product Design team from June 2016 to July 2018, and have been freelancing for the company since October 2018. I have assisted with the creation of new products, from conception to packaging to distribution, including developing a nursery and playroom storage line. The products and packaging below are just a few of projects I have contributed to.